(with vegan and gluten free options)
30 to 40 saltine crackers (I have seen recipes call for 40 but I used about 32 crackers)
1 c butter (2 sticks)
1 c brown sugar, packed (I used half light and half dark because that's what I had on hand and open)
1/2 tsp vanilla extract (some recipes I have seen do not call for it, but I recommend it)
1.5 to 2 c chocolate chips (I used one 12-ounce bag of TJ's semi sweet morsels, also see optional note below)
Directions:
Preheat the oven to 350F.  Line a 9 x 11 pan or similar with aluminum foil and spray it very well with cooking spray.  (Do not try to make this without using foil; you will hate yourself).  Place saltine crackers in a single layer on the bottom of the pan.  (Some recipes suggest using a jelly roll pan which may allow for a slightly bigger batch, i.e. 40 crackers, but it's a bit too shallow for my comfort zone and didn't want any bubble-overs)
In a saucepan on the stovetop, combine butter and sugar and bring to a boil while stirring constantly.  Once a boil is reached, reduce the heat and simmer, uncovered, for 3 to 5 minutes or until mixture has thickened some.  Take care not that your simmer is not too fast/too high because it will be prone to bubbling over or scorching.  Stir mixture frequently while it simmers to avoid bubbling over or scorching (The taste of burnt butter and sugar is awful so do not burn it)
After mixture has thickened a bit, remove it from the heat, wait 30 seconds, add the vanilla extract and stir.
Pour mixture over the prepared pan with the saltine crackers.  Bake this in the preheated 350F oven for 5- 7 minutes, or until toffee/liquid becomes bubbly.
After removing the pan from the oven, let it sit for 3-5 minutes.
Sprinkle on the chocolate chips and wait for 3-5 minutes, letting them soften and melt a bit, and then spread and smooth them into an even layer with a spatula.
Optional:  After smoothing the chocolate, add nuts, seeds, graham cracker crumbs, toffee bits, dried fruit, candy bits, or swirl in some peanut butter or other nut butter.
Optional: Use other types of chips, such as butterscotch, white, peanut butter, etc. either in addition to or in a half-and-half  combination with the dark chocolate chips for your top layer.
Let cool very well and if desired for expediting purposes, refrigerate or freeze until hardened.  Break into pieces the size of your choice.
Store in an airtight container on the countertop.  Or, for longer term storage, freeze it.  I freeze all my desserts regardless and have been eating this straight out of the freezer.
To keep gluten free, use GF crackers or make your own GF saltine crackers
To keep vegan, use margarine/Earth Balance and use a vegan cracker
Alternate from MrFood.com
Serves: 25
Chilling Time: 30 min
Cooking Time: 10 min
What You'll Need:
35 saltine crackers (about 1 sleeve from a 16-ounce box)
1 cup (2 sticks) butter
1 cup sugar
1 cup (1 six-ounce package) semisweet chocolate chips
1 cup peanut butter chips
What To Do:
Preheat oven to 400 degrees F.
Line a 10- x 15- inch cookie sheet with aluminum foil. Lay out crackers on cookie sheet, packing tightly.
In a medium-sized saucepan, melt butter, then add sugar and boil, stirring frequently, 2 to 3 minutes, until sugar is completely dissolved.
Immediately pour mixture over crackers and bake 7 minutes.
Remove from oven and immediately sprinkle chocolate and peanut butter morsels over crackers, spreading evenly as they melt.
Refrigerate at least 30 minutes, then break into pieces. Serve immediately or refrigerate until ready to serve.
Notes
This is great topped with chopped nuts or flaked coconut – just sprinkle either on top before refrigerating. It's best not to substitute margarine for butter in this recipe.
---
Alternate Similar Recipe from Mr. Food – www.mrfood.com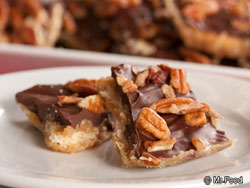 It's hard to believe that this chocolatey Cracker Candy  is made with such an unusual ingredient! But our Test Kitchen guarantees that once you try 'em, you will make this one again and again!
What You'll Need:
About 24 round buttery crackers
3/4 cup butter (1-1/2 sticks)
3/4 cup packed brown sugar
2 cups semisweet chocolate chips
1/2 cup chopped pecans
What To Do:
Preheat oven to 350 degrees F. Line a 9- x 13-inch pan with aluminum foil; lightly coat foil with cooking spray. Arrange crackers in a layer in pan.
In a medium saucepan, bring butter and brown sugar to a boil; cook 3 minutes, stirring constantly. Pour mixture over crackers.
Bake 5 minutes; turn off oven. Sprinkle crackers with chocolate chips and let stand in oven 3 minutes, or until chocolate is melted. Spread  chocolate evenly over crackers. Sprinkle pecans over chocolate. Let cool, then break into pieces. Store in an airtight container in refrigerator.
Find more like this: Snacks -n- Treats